THE WAITN PLATFORM IS MORE THAN A WAITLIST APP FOR BARS & NIGHTCLUBS
IT'S TRUE THAT A LONG LINE OUTSIDE YOUR BUSINESS SIGNALS YOUR POPULARITY. HOWEVER, WHEN YOUR WAIT IS INEFFICIENT OR LENGTHY, CUSTOMERS GET FRUSTRATED, GIVE UP, AND GO ELSEWHERE.  
 ELIMINATE THE RISK OF LOSING CUSTOMERS, AND STOP FORCING THEM TO JUST STAND IN LINE. Instead, INVITE GUESTS TO TAKE ADVANTAGE OF YOUR OTHER SERVICES WHILE THEY WAIT.  
 DON'T MISS OUT ON SALES BECAUSE YOUR WAIT IS LONG, INEFFICIENT AND NON-TRANSPARENT.
EFFICIENT BAR, TAVERN AND NIGHTCLUB WAITLIST MANAGEMENT CREATES SUSTAINABLE SALES GROWTH, INCREASES GUEST SATISFACTION, DRIVES REPEAT BUSINESS, AND REDUCES OCCUPANCY OVERAGES, ALL WITH LESS MANAGEMENT HEADACHES AND LOW OVERHEAD.

THE WAITN MOBILE STAFF APP
MAKE YOUR CUSTOMERS HAPPY WITH WAITN, THE CROWD MANAGEMENT PLATFORM THAT INCLUDES A DIGITAL WAITLIST MANAGEMENT APP SPECIALLY DESIGNED FOR BARS AND NIGHTCLUBS. 
THE STAFF APP INCLUDES CROWD MANAGEMENT TOOLS LIKE A DIGITAL TALLY COUNTER FOR MONITORING YOUR OCCUPANCY, NO-SHOW REDUCTION TOOLS LIKE CUSTOMER GEO-LOCATION AND LAST CHECK-IN TIMES, AND QUEUE MANAGEMENT TOOLS SUCH AS SMART WAITLIST QUOTE TIMES, SMS CUSTOMER MESSAGES, AND EASY MONITORING OF QUEUE SIZE. 
WAITLIST MANAGEMENT FEATURES
ADD TO WAITLIST
Add guests to your waitlist using the WAITN Staff App.
ACCURATE QUOTES 
We calculate the expected wait for each Zone / queue. 
SMS ALERTS
Guests receive an SMS when they're added & paged.
GUEST INTERACTION
 Guests can view and update their queue / reservation.
WITH WAITN IT'S EASY TO GET YOUR GUESTS ONTO A DIGITAL WAITLIST, SO THAT THEY DON'T HAVE TO STAND IN AN INEFFICIENT LINE.  LINES MIGHT CONVEY POPULARITY, BUT THEY ALSO TELL POTENTIAL CUSTOMERS THAT YOU'RE NOT READY TO SERVE THEM. 
CROWD MANAGEMENT FEATURES
PEOPLE COUNTING
Keep track of occupancy using the built-in digital tally counter.
TRACK CERTIFICATIONS
Store your completed crowd-manager certifications online.
MULTIPLE COUNTERS
Keep track of Zone capacity with staff at different entrances.
MULTIPLE USERS
 Staff users can update and manage QUEUES AND TALLY counts in real-time.
CROWD MANAGEMENT PLATFORM
GUESTS EXPECT YOUR BUSINESS TO BE READY TO SERVE THEM. SHOW THEM YOU'RE READY BY GIVING THEM CONTROL OF THEIR RESERVATION WITH THE WAITN GUEST APP.  WITH NO APP TO DOWNLOAD, GUESTS WILL THANK YOU FOR MAKING THEIR EXPERIENCE SIMPLE, EFFICIENT AND APPRECIATED.  
 WITHOUT THE NEED TO RETURN TO STAFF FOR REQUESTS SUCH AS CHECKING THEIR PLACE IN LINE, ADDING ANOTHER PERSON TO THEIR PARTY, OR CANCELING THIER RESERVATION, YOUR STAFF WILL HAVE MORE TIME AVAILABLE TO PERSONALIZE THE CUSTOMER SERVICE EXPERIENCE FOR YOUR GUESTS.
GUEST INTERACTION FEATURES
NO DOWNLOADS
Guests don't need to download an app TO INTERACT WITH YOUR VENUE.
SELF-SERVICE
GUESTS CAN MODIFY THEIR RESERVATION ONLINE WITHOUT INTERRUPTING YOUR STAFF.
GUEST APP LINK
Guests receive a LINK TO THE WAITN GUEST APP WHEN THEY ARE ADDED TO YOUR QUEUE.
EASY UP-SELL
  OFFER AND SELL SERVICES TO YOUR QUEUING GUESTS WHEN YOU UPGRADE TO ENTERPRISE.
THE GUEST APP
CREATE 
HAPPY 
GUESTS
WHEN YOU ADD A CUSTOMER TO YOUR WAITLIST, THE GUEST RECEIVES AN SMS WITH A LINK TO CHECK-IN ON THEIR PLACE IN LINE AND INTERACT WITH YOUR VENUE IN ALL-NEW WAYS.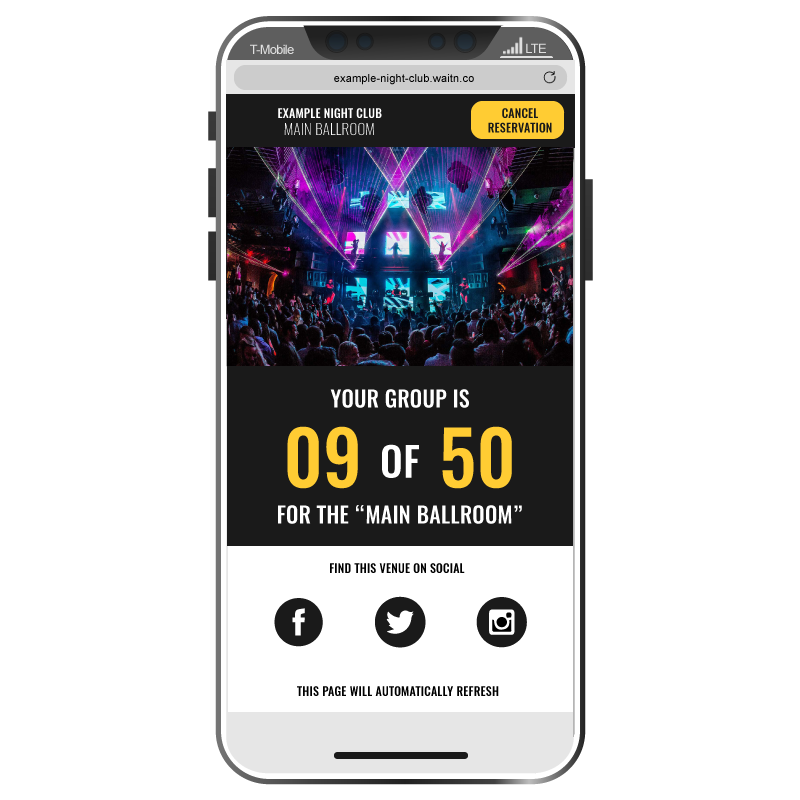 GET THE FEATURES THAT YOUR BAR AND NIGHTCLUB GUESTS CRAVE
"BAR AND NIGHTCLUB WAITLIST MANAGEMENT IS DIFFERENT THAN  RESTAURANT WAITLIST MANAGEMENT--WHEN YOU'RE BUSY AND OPERATING AT CAPACITY, YOU MIGHT HAVE GUESTS STANDING IN A FIRST-COME FIRST-SERVE LINE OUTSIDE THE DOOR." — James Chapman, Villiage Pub
WITH WAIT'N IT'S EASY TO GET THESE GUESTS ONTO A DIGITAL WAITLIST, SO THAT THEY DON'T HAVE TO STAND IN AN INEFFICIENT LINE.  LINES MIGHT CONVEY POPULARITY, BUT THEY ALSO TELL POTENTIAL CUSTOMERS THAT YOU'RE NOT READY TO SERVE THEM. 
WAIT'N CHANGES THE WAY THAT PEOPLE WAIT FOR POPULAR VENUES.  
ONCE A CUSTOMER IS ADDED TO THE WAITLIST, THEY RECEIVE A CONFIRMATION SMS WITH A LINK WHERE THEY CAN VIEW UPDATES ABOUT THEIR PLACE IN LINE IN REAL-TIME, INCLUDING THEIR EXPECTED WAIT TIME, AND HOW MANY PARTIES ARE ON THE LIST AND IN FRONT OF THEM.
IN ADDITION, THE CUSTOMER PAGE CONVEYS IMPORTANT INFORMATION TO THE GUEST ABOUT YOUR VENUE, SUCH AS YOUR OPERATING HOURS OR ONLINE ORDERING OPTIONS, AND ALSO ALLOWS THE GUEST TO MODIFY AND UPDATE THE INFORMATION THEY PROVIDED TO STAFF, SUCH AS THE SIZE OF THEIR GROUP.
ALLOWING THE GUEST TO UPDATE THEIR OWN INFORMATION IF A NEW FRIEND IS EXPECTED TO JOIN OR LEAVE THEIR PARTY SAVES YOUR EMPLOYEES' TIME SO THAT THEY CAN REMAIN FOCUSED ON CROWD MANAGEMENT.
WHEN YOU'RE READY FOR THE GUEST, SEND THEM AN SMS ALERT THAT INCLUDES AN EASY TO IDENTIFY CONFIRMATION CODE WITH THE TAP OF A BUTTON. CONFIRMATION CODES MAKE IT EASIER TO IDENTIFY PAGED GROUPS FROM A DISTANCE, BEFORE NAMES CAN BE HEARD OR READ.  
GUESTS LOVE BEING ABLE TO DO SOMETHING ELSE WHILE THEY'RE WAITING, AND THEY LOVE ESTABLISHMENTS THAT VALUE THEIR TIME. WHEN GUESTS CAN MONITOR THEIR PLACE IN LINE, THEY ARE MUCH MORE LIKELY TO RETURN THAT NIGHT, BECAUSE THEY CAN PLAN THEIR EVENING AROUND HOW FAST YOUR LINE IS MOVING, EVEN WHEN YOU HAVE A VERY LONG WAIT!
SOME GUESTS WON'T RETURN, BUT BECAUSE YOU'VE LEFT SUCH A POSITIVE IMPRESSION ON THEM, THEY'RE MUCH MORE LIKELY TO FEEL COMFORTABLE ABOUT TRYING YOUR ESTABLISHMENT AGAIN IN THE FUTURE. 

Mark J.  Johnston
STAFF WRITER,  NOWAITN CORPORATION